IBT an ISO 9001:2008 Registered Company
---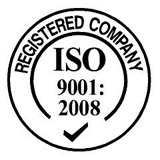 In August 1997, The Standards Council of Canada, the American National Standards Institute (ANSI) and the Registrar Accreditation Board (RAB) signed a five-year mutual recognition agreement for their ISO 9001:2008 quality system accreditation programs. The agreement means that the Canadian and U.S. accreditation bodies will recognize each other's accredited registrars as equivalent and equally competent to register ISO 9001:2008 quality management systems. The agreement's objective is to facilitate the wider acceptance of registrations and reduce the need for registration organizations to hold multiple accreditations


FAQ on ISO 9001:2008
---
Q: What is ISO 9001:2008 ?
A: ISO 9001:2008 Quality Management System (QMS) registration is the formalized process by which a quality management system is assessed against an accepted standard such as the ISO 9001:2080 series. It includes a review of an organization's documented quality management system and ongoing audits of the facility to ensure the quality management system has been implemented and is effective. In many cases, implementing a quality management system means changing operations to reduce wasted time and effort, to define improvements and to maximize the value of investment. Logo QMSUsing a quality management system is a key component in achieving this value in today's global market place.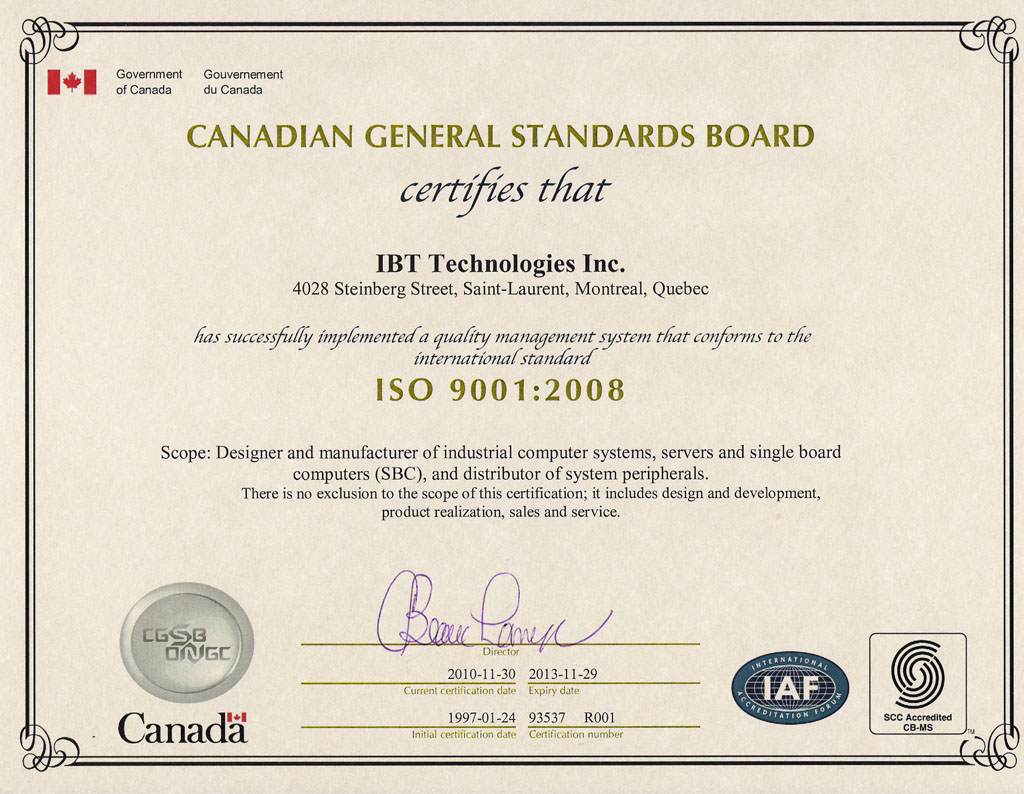 IBT RoHS Compliance
---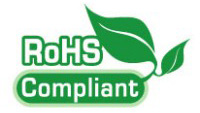 Starting July 1, 2006, all electronic products sold in the European Union (EU) will need to be in compliance with the directive pertaining to RoHS. RoHS stands for "Restriction of the Use of Certain Hazardous Substances in Electrical and Electronic Equipment ¨. It restricts the use the use of lead and five other hazardous substances commonly used in electronics products. IBT is developing and introducing products that are lead-free to comply with RoHS and it is committed to environmentally sound manufacturing processes for a cleaner global environment.
FAQ on IBT RoHS Compliance
---
Q: What is the standard for RoHS compliance that IBT adheres to?
A: The standard is based on the maximum concentration value as defined by the European Commission: "A maximum concentration value of 0.1% by weight in homogeneous materials for lead, mercury, hexavalent chromium, polybrominated biphenyls (PBB) and polybrominated diphenyl ethers (PBDE) and of 0.01% weight in homogeneous materials for cadmium shall be tolerated."
Q: What is the schedule for RoHS-compliant production by IBT?
A: The RoHS action plan has started to be implemented, starting with the review of materials and manufacturing process to ensure they meet RoHS legislation. The implementation shall cover all board level products (industrial motherboard, single board computers, gaming motherboard) and embedded systems (gaming systems, firewall/VPN, DVR). For components that are not complying with RoHS requirements, IBT is looking for secondary sources or changing components through an ECO. We plan to finish the transition to RoHS compliance before the July 1, 2006 deadline.
Q: Can IBT offer RoHS-compliant products now?
A: IBT currently offers RoHS products on a case-to-case basis. There are ongoing productions for certain models that are RoHS compliant and they will be shipping before year 2006. It would normally take a time of two to three months for RoHS-compliant materials to be available for new projects. Customers may contact their respective sales representative to inquire about the first IBT products meeting RoHS compliance to be available.
Q: Will all IBT products be made to be RoHS Compliant?
A: Some components suppliers have announced that they do not intend to convert certain components to RoHS compliance. For this reason, IBT will replace equivalent components from other qualified vendors to achieve RoHS compliance. If replacements are not possible, IBT will offer substitute products. Customers should contact their IBT sales representative for the most up to date information regarding the product offerings.
Q: Meanwhile how can i known the status of the product?
A: Request the RoSH status list or look at the P/N a (-R) will be added for some time to help, but this (-R) is not part of the P/N himself.